We are digging potatoes
Both literally. And, well, literally. We dug our potatoes out of the ground and we dig eating them. :)
Our gardening this year was minimal so for the amount of effort we put in (almost zero), the outcome hasn't been too shabby. We dug the potatoes recently and were pleasantly surprised. The plants died off much earlier than I thought they should have so I really didn't expect much under each plant. Drumroll…
Out of just a few plants, we got quite a bunch of potatoes. That upper row there were all 5″ potatoes! I was surprised by the size. Next year I will have to plant more. We have already used up all that we produced.
One of our favorite ways to eat them is in potato nachos using thinly sliced potatoes in place of tortilla chips and piled high with black beans and loads of veggies then topped with a bit of cheese and guacamole. Yum! We coat the potatoes with a little olive oil and bake them first before adding the toppings. The toppings can include so many things: chopped kale or spinach, cilantro, corn, tomatoes, any type of beans, chicken, steak, ground beef, onions, peppers…
I googled and found this recipe for a basic recipe if you need one. Yum!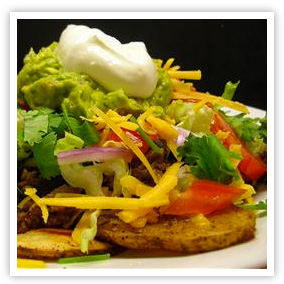 How about you? Did you do a garden this year? I don't believe I will ever be much of a gardener so I'm thankful that God allows many things to practically grow themselves. :)
Warmly,
Angie