Southern Christmas Show Booth 119 – Liberty Hall
Now that the morning sickness seems to be in the past (last day of nausea was over a week ago…whew), I have gotten down to business preparing for my main focus of the year: The Southern Christmas Show in Charlotte that runs from November 12-23. It such a huge 12-day show that I can't begin to describe how enormous it is. You'll want to come check it out if you are in the area. Especially if haven't ever been before! It is held at The Park Expo and Conference Center off Independence Blvd. Many of my customers last year told me that it is a family tradition. They attend every single year. Now that I have been, I can see why.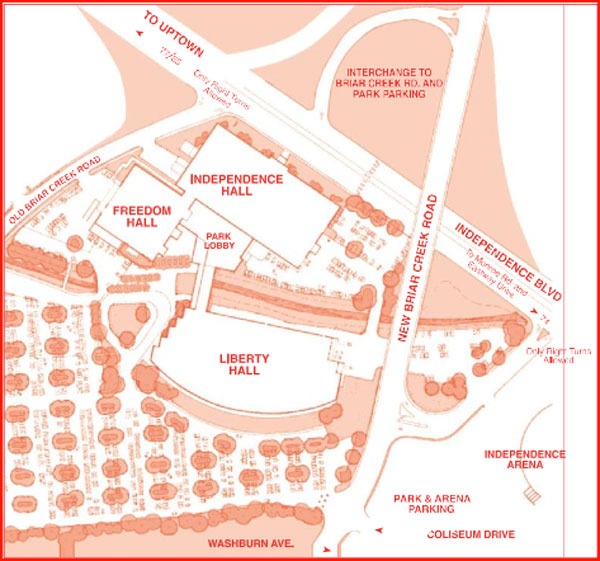 Three large halls separate the various types of exhibitors. I am in Liberty Hall which is the first building and the one where you will enter. The first part of Liberty Hall is called Old Towne because it is meant to feel like you are wandering through an old town decorated for Christmas. The lights are dimmed, music is soft, and loads of Christmas decor add to the calm and Christmasy mood of this area. The large Old Towne shops have actual walls with doors and windows so you feel like you are entering real stores. These shops include bigger retailers that sell any type of Christmas decor you could ever want, along with winter apparel boutiques, perfume and cosmetic shops, and even wine tasting. We liked the wine tasting and went home with a bottle several of the nights. ha!
Interspersed between the large Old Towne shops are groups of festive striped tents housing 100% handcrafted items. I am one of these. Our tents are meant to feel like street vendors. The Old Towne section is by far the more calm and festive part of the show in my opinion! I enjoyed the other areas but they got crazy and loud so I was happy with where my tent was placed! I am told that many people run straight back to the booths they hit each year in the other two crazier halls and then come back to Old Towne to relax and meander.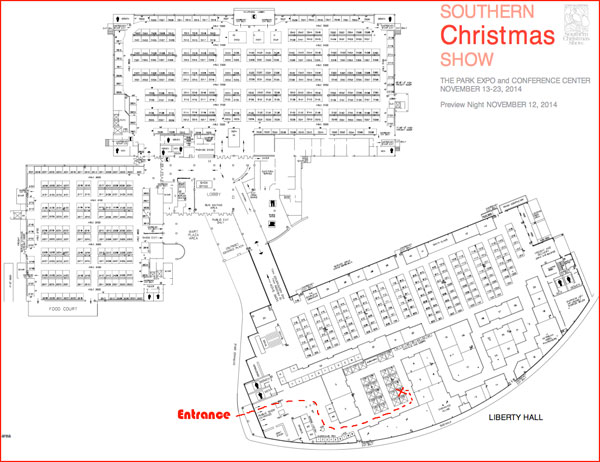 X marks my spot in Liberty hall. They switched things up just a bit this year in my section. Our tents are more towards the entrance, so you'll come upon my booth more quickly once you get your tickets.  Here is a closer image of the Old Towne area. Once you meander through Old Towne, you enter a large space with row after row of more craft exhibitors. These businesses are handmade as well. You'll find everything from jewelry to pottery to wooden toys. It is fun and inspiring to look at it all!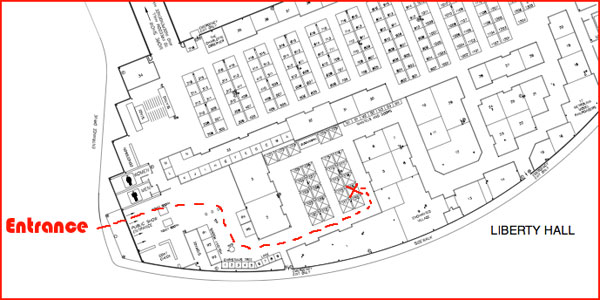 Once out of Liberty hall, you'll find two other halls. One houses mass produced items (but still great Christmas gifts!) and you could get lost in there. The other houses consumables like soaps, candles, fudge, danishes, kettle corn, etc. Many of those businesses are small family-owned as well. There really is something for everyone on your Christmas list.
Over 100,000 people came last year and over 500 businesses exhibited. I couldn't have been happier with the results of the show last year. I'm getting excited to see what this year brings!
If you come to the Southern Christmas Show, stop by and say hi! Grab a map when you arrive so you can find your way around. I am in Booth 119.
Warmly,
Angie