Daily Candy
Whew. This morning has been a nice little whirlwind. Well, except for the flat tire that I didn't need on my way to town! I have been so kindly featured on Daily Candy…a wonderful website! Welcome to all of you coming over from Daily Candy…it is a pleasure to have you here in my little shop.
I've received a large amount of both orders and questions…all of which I will work my way through! But until then I wanted to put a quick note here that might answer a good majority of them.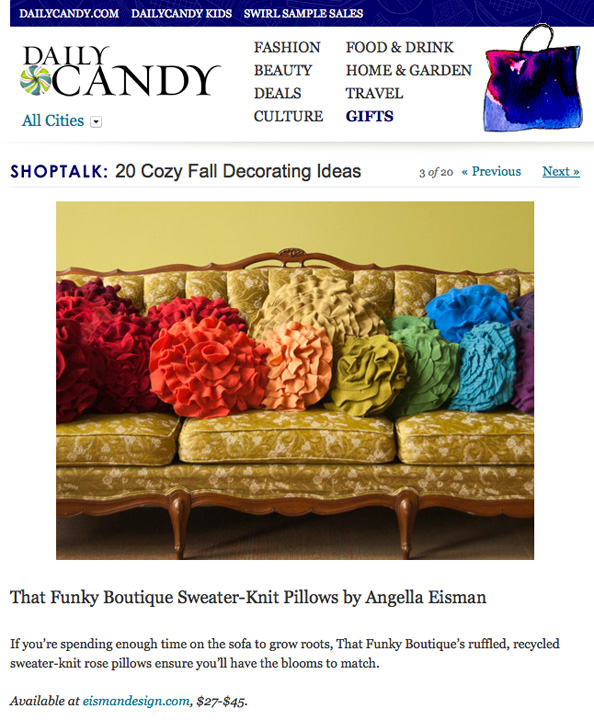 Yes! The bright colors are selling fast. Most were gone within the first hour this morning but me and my sewing elves are hard at work and will continually replenish. So I hope you'll continue to keep an eye on my store. You may wish to be quick if you see one you like. And I hate to say that, because I'd love for everyone to get exactly what they want! but in all honesty, I'm just a little bitty designer who has a handful of friends helping me sew and we can do only what we can do. And we'll for sure do our best to keep up with demand! Coming next (by this evening) are ivory and grays if you are interested in those colors. And tomorrow (Wednesday) I should have a handful of bright pillows by the afternoon.
Now…before I go off to sew and photograph more pillows for you I do want to say a huge THANK YOU! All the orders and interest is truly wonderful.
Off to my little corner to sew,