April: A new deck and this and that
I haven't posted here in a while because we were doing a bunch of updates to the website on a staging server. Posting anything would have meant I'd have to post on the staging server as well…too much work for this worn out mom of an almost-two-year-old. ;) But the updates are live now so I can post away.  The upgrades were mainly behind the scenese to make the site function better (my old shopping cart was glitchy). I did take the time to replace and update many products though. Take a peek when you have a moment or when need a gift item for a special someone!
April flew by. Did it for you? Our oldest was thick into her soccer season which meant tons of fun traveling and cheering. I love this girl. She puts her whole heart into things and it is fun to watch her out on the field.
She also has a big birthday this week. For her main gift, my parents and Jeff's mother sent her off for her first youth retreat at a local camp. Our church youth group is top-notch. Following hard after Jesus. She came home refreshed and excited to talk about the things learned about God and herself. It is so much fun to have a preteen! I am really enjoying this time with her.
To make her camp experience even more memorable we sent her off with a cake to share with her bunk-mates. I snapped this photo above after dropping her off. We sure missed her while she was away for the weekend!
Speaking of birthdays, that little guy up there is next for a birthday. I can't believe he will be two next week (but then I can when I consider the craziness of our days lately)! Our three children were all born in a two week period in May. Different years of course! It's birthday part central here. At the tail-end, our gonna-be-nine year old will celebrate his birthday towards the middle of the month. I need to scramble!
We are also busy with a new house project going that I haven't shared yet. Replacement of our deck is in progress! I can't wait to share photos of the finished project, but it has gotten far along enough now to get some middle-stage photos. It is taking shape and we love it.
The contractor who is doing it (this is not DIY for once!) agreed that the base was solid, so it could be reused. The decking itself and railings were in need of replacement though. It will also get bracing supports by the 6 x 6 columns to beef them up a bit. With enough coats we hope staining the base a similar color to the house will get rid of the "faded trellis" look that the columns currently have going! Fingers crossed.
Originally, I had thought we might stain the top board of the railing as well. Something like this photoshopped mock-up:
But I think I'm liking it natural now that we see it in real life. I'm dreaming of a cozy patio set in this area below. It is a great place to sit and watch the sunset.
This time of year seems so fresh and new doesn't it? I love spring. Our apple trees are in huge bloom right now. More than I remember in the past few years.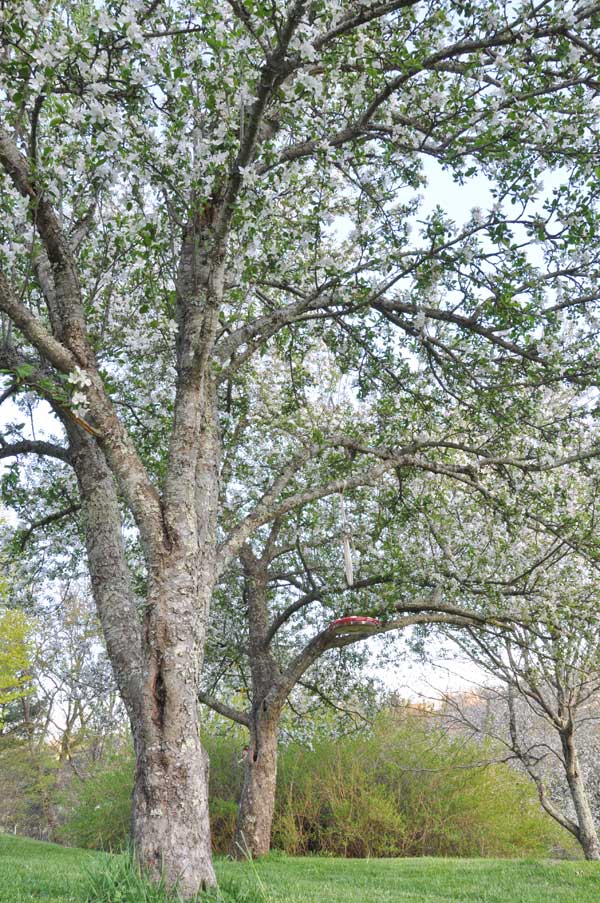 Hoping that means extra good apples this fall!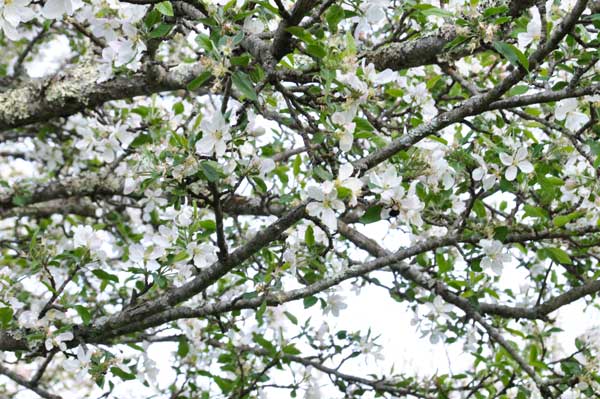 Consider this a catch-all post to get caught up! Celebrating kids, Easter, new house projects, and fresh blossoms has made for a beautiful spring here! I hope you are having your own spring celebrations.
Warmly,
Angie